Sistemi Galleggianti/ Water polo goal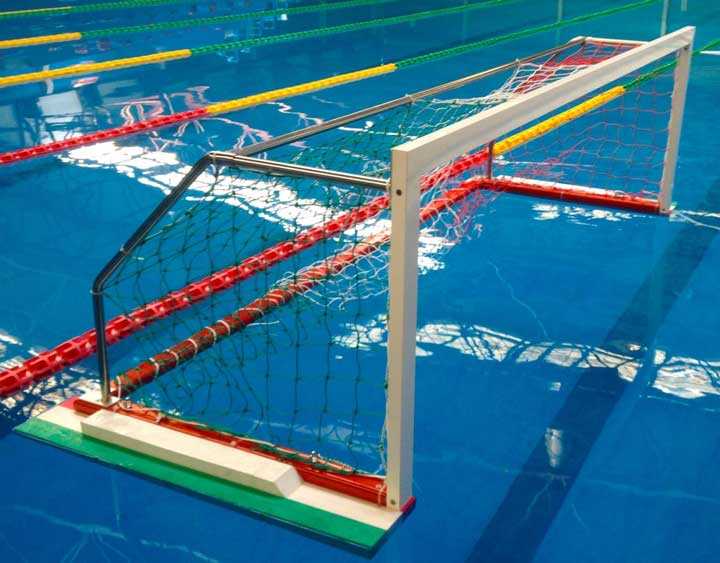 A goal, ten good reasons
Economical, safe, stable, high buoyancy, compact, aesthetically pleasing, high performance, visible, light, durable… There are ten good reasons to
prefer a Water polo goal of Sistemi Galleggianti. But It's finding them all together to make it unique.
High Quality at affordable prices
Don't just make a goal under F.I.N.A. to make a good water polo goal. A goal unstable, or barely visible, can affect a game. Much depends on the environmental conditions for this we take care of every detail Sistemi Galleggianti And we do it at reasonable prices.
Notes on the quality of the profiles
Informations
The profiles used by Sistemi Galleggianti, made by Metra Spa, are among the best available on the market, as attesting the following certifications. .
All the profiles are painted according to the qualitative process QUALICOAT and have the SEASIDE treatment (treatment for the marine environments made in line)
The profiles painted with AL3000 (red) also have   have the powder in Class 2 to reduce the color loss
Features-model "competition"
Informations
Goal realized according to F.I.N.A.
size inside the goal mirror 3000 X 900 mm
Overall dimensions 3500 X 975 X 1560 mm.
Aluminum tubular goal mirror 75 X 40 X 1,85 mm. white color
Aluminum tubular floating base 80 X 40 X 3 mm. Red color
AISI 316 stainless steel accessories
350% density closed cell foam floats
Weight 35 Kg.
Features - "standard" model
Informations
Goal realized according to F.I.N.A.
size inside the goal mirror 3000 X 900 mm
Overall dimensions 3500 X 975 X 1250 mm.
Aluminum tubular goal mirror 75 X 40 X 1,85 mm. white color
Aluminum tubular floating base 80 X 40 X 3 mm. Red color
AISI 316 stainless steel accessories
350% density closed cell foam floats
Weight 32 Kg
Goal realized according to F.I.N.A.
size inside the goal mirror 3000 X 900 mm
Overall dimensions 3500 X 975 X 1250 mm.
Aluminum tubular goal mirror 75 X 40 X 1,85 mm. white color
Aluminum tubular floating base 80 X 40 X 3 mm. Red color
AISI 316 stainless steel accessories
350% density closed cell foam floats
Weight 32 Kg